Progressive Soccer Training Review
There are many reasons why somebody would want to improve his or her soccer-playing skills. Maybe you want to win a scholarship for college or simply wish to impress your teammates. Maybe you have always dreamed of going professional or you just want to make your parents proud. For whatever reason, becoming a better player is hardly ever a one-man job.
If you do not believe us, just ask coach Dylan Tooby, the creator of Progressive Soccer Training. He too dreamed of playing soccer professionally and spent countless hours working toward his goal. In the meantime, he discovered coaching and private training. He trained players of all ages and skillsets for years before he finally decided to make his vast knowledge of playing and coaching soccer available for everyone who needs help pushing themselves further and reaching their full potential.
In this Progressive Soccer Training review, you can find out more details about coach Tooby's project and how it can help you improve your performance.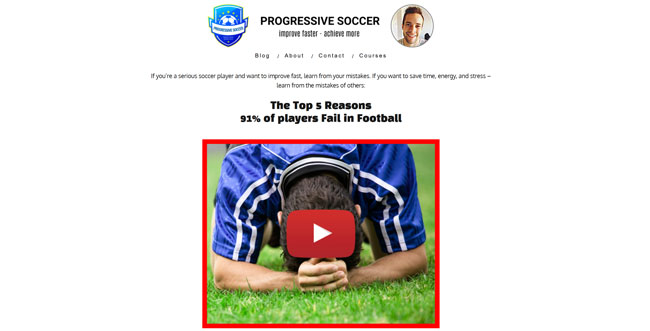 Why Choose Progressive Soccer Training
Like we already mentioned, coach Tooby Dylan worked hard to become a professional soccer player and ultimately became a soccer coach and personal trainer. After years of coaching players individually, in small groups, and within large training camps, Tooby Dylan established himself as a reputable soccer coach. But that was not good enough for him. It was only when he discovered YouTube that he was able to reach soccer players all over the world.
In one year, coach Tooby's first YouTube channel The Soccer Essentials gathered 100,000 subscribers. However, he accidentally used copyrighted music and the channel was banned from making any money from advertisements. Coach Tooby decided to start over, this time creating Progressive Soccer that rapidly grew, amassing more than 400,000 subscribers.
Devoted to helping soccer players develop their skills, coach Tooby pushed himself to improve every aspect of his game so that he could transfer his knowledge into YouTube tutorials for his followers. The tutorials are based on proven techniques that coach Tooby devised by himself based on his experience as a player and a coach and by studying some of the best players at work.
The Progressive Soccer Training website consists of several sections with materials on player development. The blog section contains in-depth articles on soccer-related subjects, with a new post released each week. If you want to be updated as soon as the new post is published, you can subscribe to the Progressive Soccer newsletter. The video library holds the best YouTube channel video tutorials.
After you have gone through all the free materials, you can continue to the Courses section where you will find advanced training programs divided into three different level courses. But before you enter the Courses section, coach Tooby offers a free 30-minute Soccer Crash Course that can help you perform better during your next game or practice. This short course will give you a taste of what to expect if you decide to purchase one or more of the courses.
If you complete the course and think it has done nothing to improve your performance, coach Tooby will give you your money back, no questions asked. If you have any questions you would like to ask coach Tooby, there is a contact form section on the Progressive Soccer Training website.
Progressive Soccer Training Offer Details
Coach Tooby offers free materials in the form of blog articles, YouTube tutorials, and a 30-minute Better Today-Quick Course. After you are finished with the free resources, there are three available paid courses you can try out.
The Level 1 Courses contain Triple Your Talent (plus add-ons) and Essential Soccer Guides courses.
The Triple Your Talent course features three training routines to improve your overall performance in downloadable video and audio files and PDF workout sheets for $29, a Chasing Greatness ebook for $19, three bonus videos on how to improve your grades and achieve success in life and pre-match routines that will help you become a better player for $19, and Soccer Success Checklist that contains ten success principles to follow if you want to excel faster for $9.
The Essential Soccer Guide provides you with the best course compilation from coach Tooby's previous website. It includes So You Want To Be A Soccer Player? ebook for $19, Soccer Success Secrets, an ebook with the 20 biggest soccer success secrets from renowned soccer players for $29, Mental Mastery For Soccer Players in the form of an ebook and video tutorials for every chapter for $29, and Soccer Nutrition Secrets, a guide for achieving optimal results through nutrition for $29. The entire package costs $106, now available for $39.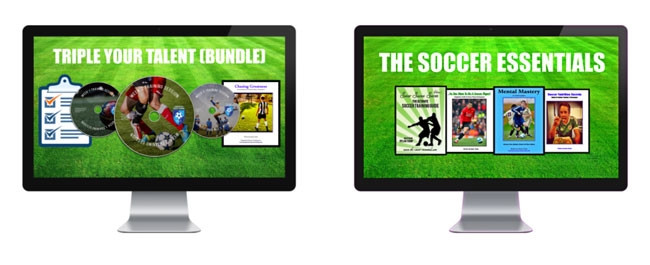 The Level 2 Courses also contain two separate courses, Play Like A Pro (plus add-ons) and Train2Dominate.
The Play Like A Pro course will teach you how to transition from an average to an elite soccer player. It contains Play Like A Pro program that consists of 8 modules with tutorials and a day-by-day video training program for $99, Total Soccer Confidence course for improving your self-confidence for $69, 50 Individual Soccer Drills bonus video for $19, and Advanced Mental Training audio one-hour course for $9. The total value of the course is $196, currently discounted at $97.
The Train2Dominate is a digital training program that can help you reach your full potential as a player in the shortest amount of time. This program contains coach Tooby's personal training routine. You even get 5 free bonuses including Soccer Success System, coach Tooby's cooking program, Special Stamina Rub, Pre Game Pump Up Audio Recording, and access to Private Member's Only Facebook Support Group. The original price of this package is $197, but today you can get it for $97.
The Level 3 Courses is an exclusive online membership course that contains more than 30GB of content. The course is called Match Winner Method and is designed to maximize your performance in 21 days. It contains the 21 DAY TRANSFORMATION PLAN that includes tutorials on How To Use The 21 Day Transformation Plan, 21 Day "Match Winner Method" Training Routine, and At Home Alternative Training Sessions and Extra Training Tips for Better Results, along with printable materials that allow you to track your progress and motivational tools to help you when you need that extra push. The program also includes Complete Player Development System and contains 20 training modules, each with cheat sheets and worksheet PDFs and more than 100 hours of game-changing tutorials.
Moreover, you will also get 5 free bonus programs, otherwise valued at $249, including
Match Day Manifesto that teaches you how to successfully prepare for the game day.
Performance Tracker, a tool that tracks your progress.
Eat Yourself Athletic, a nutrition plan to maximize your performance.
Living With Balance, a tool that helps you manage your time between life and training sessions.
Action Taker Academy, a step-by-step guide to reaching your goals as a player.
The value of the Match Winner Method is $499, plus the bonus features for $249, for a total of $748, which is now available for $249, including lifetime access to free updates. All courses come with a 100% money-back guarantee in case you find coach Tooby's methods unsuccessful. The material is accessible from all devices, in any country in the world, and there are no shipping costs since all the materials are found online.
Pros
Vast number of resources for improving your soccer playing performance
Accompanying tracking and motivational tools
Free articles, tutorials, and a 30-minute soccer crash course
Huge discounts
Bonus materials
Available anywhere in the world
Accessible from all devices
100% money-back guarantee
Cons
Poorly designed website
No customer service or contact number
Bottom Line
Progressive Soccer Training website is the result of over 20 years of coach Tooby's soccer playing and coaching experience. This website and all of its contents are intended for soccer players all across the globe who wish to maximize the potential and realize their dreams of one day becoming professional soccer players. With helpful articles, tutorials, and specialized courses, coach Tooby did his best to transfer all of his knowledge to you. What remains is for you to learn, be persistent, and trust that hard work pays off in the end.