Soccer Tutor Review
If you ask some of the best soccer players in the world what the secret behind their success is, they will tell you that it takes a certain amount of talent, a lot of hard work and persistence, and plenty of support and expertise provided by their coaches.
Behind every great athlete, there is a dedicated group of well-educated experts whose main goal is to come up with a unique training regime and smart tactics that can transform an ordinary soccer player into a world-renowned competitor.
Being aware of the impact training under some of the biggest coaching names in the business had on his professional career, former West Ham United FC player George Pallecaros created Soccer Tutor, soccer coaching resources that include a variety of products for improving your team's development and winning more games.
For a more detailed overview of what Soccer Tutor has to offer, continue reading our comprehensive Soccer Tutor review.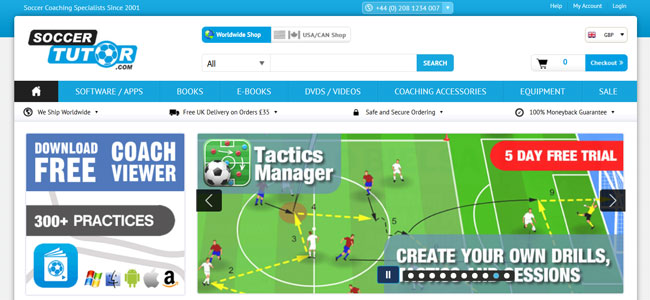 Why Choose Soccer Tutor
Are you struggling with finding a fresh approach to coaching your team or coming up with drills and tactics that will help your players improve their overall performance? Maybe you are about to take a coaching exam and could use an alternative material source along with some useful tips from an experienced coach or you are just looking for a more effective way to prepare and showcase your game plan?
With Soccer Tutor, you are likely to find help with almost every aspect of coaching available in the form of software, app, books, e-books, DVDs, videos, coaching accessories, and equipment. The idea behind this extensive project belongs to former soccer player turned coach George Pallecaros who wanted to gather and incorporate high-quality coaching materials into one of the biggest resources for soccer coaches in the world.
As previously mentioned in this Soccer Tutor review, George Pallecaros played soccer in West Ham United FC and had the opportunity to learn from some of the finest coaches ever, including Frank Lampard Snr., Ronnie Boyce, and Tony Carr. Soccer Tutor is the product of George Pallecaros' 25+ years of experience as a player and a coach and it is geared toward helping soccer coaches all across the globe expand and improve their coaching tactics and gain better results. Soccer Tutor is recognized by Umbro.com as a valuable asset to teaching soccer skills.
With both digital and hard-copy coaching aids, Soccer Tutor offers easy access to a wide range of products available online for both MAC and PC users and shipped worldwide. The program is created to fit various age groups and skillsets, offering a unique and structural approach to coaching that enables users to attain goals and objectives during training sessions that can later be replicated on the field.
Soccer Tutor Offer Details
We already mentioned in this Soccer Tutor review that you can choose between a digital and a hard-copy coaching option along with coaching accessories and training equipment. Coach George Pallecaros made sure that Soccer Tutor is designed to fit everyone's preferences, whether they wish to rely on technology or prefer standard methods of teaching like using books and videos or drawing on whiteboards and clipboards.
If you opt for the online approach to coaching, you can choose between Tactics Manager where you get to create your own practices and tactics and Total Team Manager Pro with 650+ pre-existing practices, coaching sessions, team tools, and more. You can also purchase both software solutions by opting for Tactics Manager + Total Team Manager Pro Software Bundle with a 20% discount and you can also download a Coach Viewer app for free and have access to free sample practices and download e-books. E-books cover various subjects, ranging from tactical analysis to fitness and conditioning.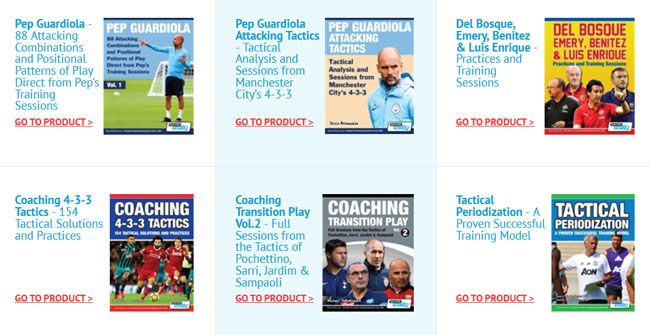 Books, video, and DVDs are divided into similar categories, including coaching methodology for multiple age groups and coaching levels, different training drills and methods, and coaching manuals in Italian, Spanish and Dutch.
And on top of all that, Soccer Tutor offers sections with coaching accessories and equipment that can be of use to you for planning and setting up practices. The prices vary depending on the type of coaching resource you choose, but Soccer Tutor often has sales or special discounts.
There is even a free trial period for Tactics Management software, after which you can purchase it for $79 and get free updates for life. With Total Team Manager-Pro, you can get access to the free edition or you can subscribe for one year of access to the pro edition for $59.
It is important to note that your subscription to Total Team Manager-Pro does not automatically renew after it expires. It is entirely up to you whether you want to subscribe to another year or not. And finally, if for some reason you are not satisfied with any of your purchases, Soccer Tutor offers a 100% money-back guarantee within 30 days.
Pros
One of the biggest resources for soccer coaching
Resources available for various age groups and coaching levels
Allows you to plan training sessions in great detail
Available in digital and hard copy formats
Practical and easy to use software
Available for Mac and PC users
App compatible with almost any digital device
Resources available in multiple languages
100% money-back guarantee
Worldwide shipping
Cons
Outdated website design
Missing articles in the Equipment section
Tactics Manager not yet available on iPad
Bottom Line
Coach George Pallecaros' Soccer Tutor is a valuable asset for soccer coaches all over the world who wish to further develop their coaching skills and help their teams reach their full potential. Even though it is considered one of the world's biggest resources for soccer coaching, Soccer Tutor keeps evolving and adding to its already impressive collection of teaching aids. Therefore, you can consider it a go-to tool for soccer coaching that can help you easily achieve all the goals that you have set for yourself and your team.